Go: February in Review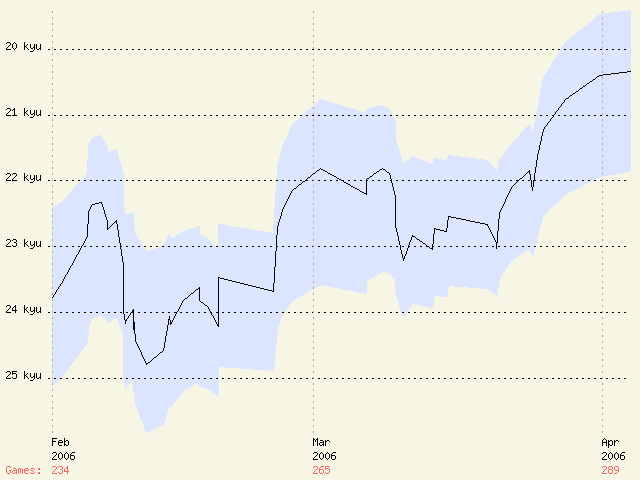 Wow...I haven't been posting much lately. In fact, my
"January in Review" post
was only two posts ago.
Anyway, despite a brief drop into 25 kyu territory, I ended the month basically up 2 kyu, at 22 kyu. This is pretty much my all-time high, so yay for me.
Highlights of the month were a
victory
over an American 19-kyu (with me getting 5 stones), a
victory
over Ben -- then 25 kyu, giving 2 stones, and a
victory
over a British 24-kyu player in an even game. The last victory was when my opponent ran out of time, but I felt I was getting the better of the game.
Lowlights were losses to a pair of Germans (on the same day)...one a 16 kyu who
beat me
despite giving me 7 stones, and one a 25 kyu who
beat me
with my giving a 2-stone handicap.
I dropped to 0-5 in the
Dragon Tourney 2006
with a
loss
in an even game to a Dutch 19-kyu player. (I was actually 0-4 at the end of January, not 0-3 as I reported.) That leaves 3 games to go. Two of my opponents haven't moved in over a month, which is annoying. The other game should finish up pretty soon.
For the month, I was 9-5 in 19x19 games. I was 8-8 in 13x13 games and 0-1 in my lone 9x9 game.
In the real world, I've signed up for a
tournament
in a couple of weeks -- but it looks like I should save that for a later post.
Labels: go